Trailheads of the Wonderland Trail
There are currently five trailheads giving one access to the Wonderland Trail:
Longmire, Mowich Lake, Sunrise, Fryingpan Creek Trailhead, and Box Canyon
Other access points of minor note are at Cougar Rock Campground, Mirror Lakes, and White River, but I don't recommend these for anything other than day hikes as they are within close proximity to either Longmire or Sunrise which offer better parking.
Longmire: The most popular option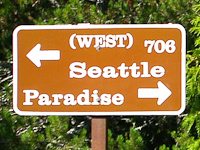 The most popular starting point is from Longmire, about a two hour drive from Seattle (three hours from Portland). This is where the Wonderland Trail has its largest brush with civilization; Longmire is a village with all the amenities you might want: a lodge with restaurant and hotel accommodations, a convenience store, laundromat, post office, and nearby car camping at Cougar Rock Campground.
---
Sunrise: Another popular option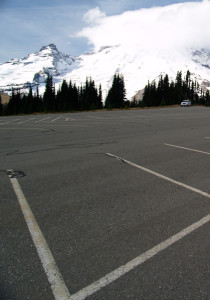 Another popular place to start is Sunrise, in the northeast section of the park. When the Wonderland Trail is hiked clockwise, Longmire is usually reached on the third or fourth day. For those of us who don't wrinkle our noses at modern comforts, it can be quite nice to have a brush with an Americano and a club sandwich three days into the trip when you get to Longmire. In addition, since Longmire is so heavily trafficked, it is also quite likely that you could bribe someone to give you a ride up to Sunrise in the rare event that you have an injury flaring up and want to cut your trip short.
Sunrise is fairly easy to get to from Interstate 5 coming from Olympia or Seattle (about 2.5 hours in good traffic). For an early start at Sunrise, car camp at the White River Campground just twenty or so minutes down the hill. In my opinion, White River is one of the quieter and nicer car camp grounds in the park.
I have never seen any data on car prowling incidents in the park, but I suspect that your car will be safer at Longmire or Sunrise than at a remote trailhead.
There is mail service to the range stations at Sunrise, Longmire, and Mowich Lake so these are the only locations to have food caches sent to. Conveniently, these places are about equidistant from each other. Look at the page on food caching for more on this.
---
Mowich Lake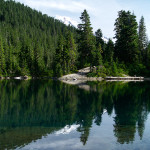 Mowich Lake is also a decent place to start and end your trip, but the road is only open for the short window of mid to late summer, and can close early if inclement weather hits. This option would be best for a trip in August to early September.
---
Box Canyon
The Box Canyon visitor area is in the southwest corner of the park. Parking isn't as secure as Longmire or Sunrise, but starting here allows you to take advantage of all three food cache locations. This lightens your load between Sunrise and Longmire. There are no facilities here beyond a restroom. If you're headed to the park from Yakima, the drive to Box Canyon is about 32 minute shorter than to Longmire.
---
Ipsut Creek
Once a popular car-camping destination in the northwest corner of the park, the Ipsut Creek campground and trailhead are currently only accessible by foot or bike about five miles beyond where the Carbon River Road was washed away during heavy rains in 2006. If you choose to access the Wonderland Trail from this trailhead, the hike along the closed road will add five miles on each end of your trip. I have only listed this as an option because I have met a handful of people who chose to use this trailhead.
The only reason to use this route would be if the Mowich Lake road was closed while the Carbon River Road was open. The Carbon River Road branches from the Mowich Lake Road and follows the Carbon River valley, ending before the washout. It is usually open year round. In 2011, MRNP announced plans to develop the section of road beyond the washout into a permanent bike and pedestrian path.
---
Getting to Mount Rainier after flying to Seatac Airport
This is a common dilemma for which there is no convenient answer beyond renting a car. If you're happy with that answer, you can skip the following. For the unappeased reader, I'll detail the issues here:
There are no shuttle services for backpackers
There are currently no shuttle services for backpackers to get from Seattle to Mount Rainier. All of the major site-seeing tour bus companies have "no backpacker" clauses, presumably because ya'll stink.
Uber almost works, but there's no cell reception or wi-fi to book your return trip.
Uber fares cost around $200 one-way from SEA to Longmire, but before you jump on board, realize that there is no wi-fi or cell coverage at Longmire to book your trip back. If cell coverage makes it to Longmire or Elon Musk launches wi-fi satellites, this will be the best option. Until then, you'll be facing a logistical challenge on the way home.
You'll need to arrange a taxi ride with one of the cab company from the Puyallup area via landline. Be prepared to wait a few hours for a pickup and to pay several hundred dollars for the ride. You might be able to negotiate a flat rate before hiring a cab, but don't expect much bargaining leverage when you're calling from a payphone in the National Park.
Car rentals are the only reliable option
If you are flying into SeaTac to hike the Wonderland Trail, your best option is to rent a car for the entire duration of your trip. Most of the time this will cost somewhere between $500 and $1000 during the late summer. Car rental prices tend to rise this time of the year because it is the peak tourist season in Washington State.