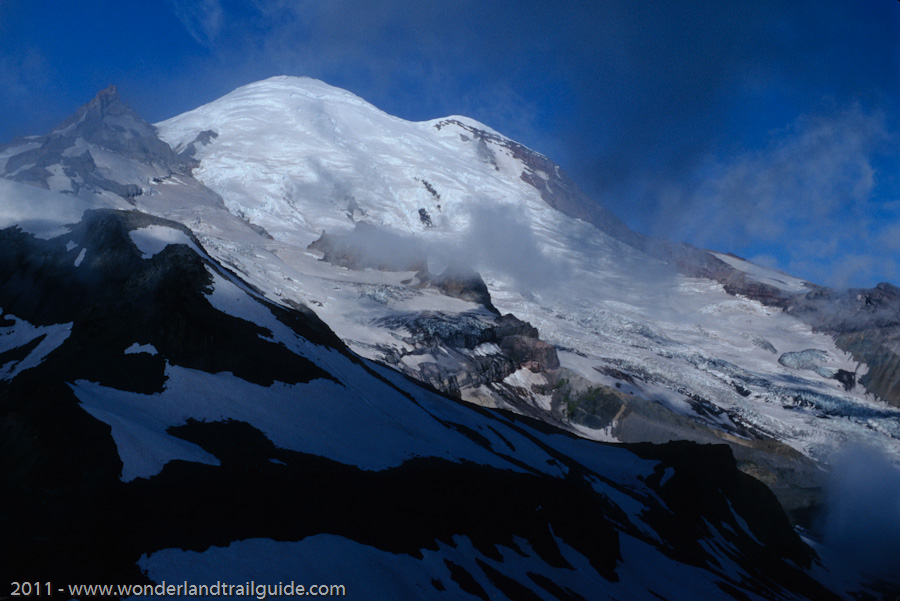 Because you'll need to book permits for the Wonderland Trail months in advance, you should consider current conditions to pick the best time to hike in summer.
The Wonderland Trail is generally accessible to backpackers from late July through the end of September. Depending on the snowfall levels from the previous winter and the arrival of the autumn storms, this window can shift from year to year.
It is best to evaluate the snow levels in early March before you apply for your reservation. If snowpack is higher than average come March, you might consider waiting until later in the hiking season. If it's been a dry winter, you might be able to hit the trails earlier than usual.
A good resource is the latest USDA Natural Resources Conservation Service Mountain Snowpack Map.
Annual Snowfall at Mount Rainier National Park
The Wonderland Trail is inaccessible much of the year. Mount Rainier lies front and center in the path of the jet stream which carries incredible amounts of precipitation in from the Pacific Ocean. Above a few thousand feet, this precipitation comes down as snow – so much so that many trees are completely buried each year.
Over fifty feet of snow falls on average annually at the Paradise ranger station.
Paradise claims to have the highest annual snowfall for any measuring-station in the world, the record being over ninety feet – suffice to say, much of the Wonderland Trail is under snow until late July and sometimes even August.
Periodic ocean temperature fluctuations affect summer weather in the Pacific NW
In a normal year, the snows typically return in October, but depending on the El Nino/La Nina Seasonal Oscillation, this won't always be the case.
During a La Nina year, rainfall is statistically higher in the summer. There might be more enjoyable things for you to do than spend ten days backpacking in the rain, so you might consider waiting another year to hike the entire trail.
Rainfall at sea level does not always mean rain at the higher elevations. Stories abound of late-summer snowstorms. In the 1980's my father once had to wait out a snowstorm for two days on the Wonderland Trail in early Autumn. He always packed extra tea, fuel, food, and reading material for those occasions.
It is most practical to hike the entire Wonderland Trail in August or early September
The lower-elevation stretches of trail may be accessible outside of this season, but care should always be taken to prepare for bad weather, and check with the Wilderness Information Center for the latest trail conditions.
I prefer hiking trail in late-August to September for a number of reasons: easier river crossings, fewer insects, lower temperatures, better trail conditions, and fewer hikers on the trail after Labor Day.
While rain is always a possibility, September averages a few more rainy days each year than August, but nearly twice the rainfall. Regardless of the time of year, be prepared for rain. In mid September of 2009, I met a number of downtrodden hikers who had spent almost their entire trip hiking in the rain. On my trip the following week, I only saw a single day of scattered showers.
River Crossings
When snowmelt is at its fastest in late Spring, log bridges are prone to being swept downstream as water levels rise. Every few years trail crews have to go in and install new log bridges on a number of big streams. These installations usually aren't made until the water levels drop to manageable levels, so if you plan to hike in June or July, there's a chance you'll need to ford some streams.
Problem crossings can include the Nisqually River, Kautz and Pyramid Creeks, the south and north forks of the Mowich River, and the west fork of White River.
Towards the end of summer, all the rivers will likely be spanned by log bridges with handrails.
Wildflowers and insects go hand-in-hand
Mosquitoes, flies, and other insects hatch in the moist soil next the receding snow line. That means that in late July and early August you have an opportunity to test your sanity against an army of bugs whose lives depend on a blood meal.
In some places, mosquitoes can be nearly unbearable. I have seen some of the worst mosquito conditions in my life on the west side of Mount Rainier, right along the melting snowline in mid-July.
A month later in August and early September, the mosquito populations die down as the soil dries out and the nights become cooler. The later you can push your trip the less you will have to deal with mosquitoes.
But if you want to see the wildflower meadows in full bloom, you have to come in Late July and early August when it's mosquito season. If you are bothered by biting insects, you might consider bringing a mosquito hat, long sleeves and pants if you're traveling early in the season.
Finding your way above the snowline
Another problem with hiking too early in the season is route finding. Panhandle Gap at 6,750 feet is usually under snow in late July, as well as other high-elevation stretches of trail (Spray Park, Emerald Ridge, and the Sunrise area).
Even with great visibility, cross country travel with map and compass can be nerve-wracking if you're unfamiliar with the territory.
Please learn how to use a map and compass, consider bringing a GPS, and hike with care. People get lost, injured, and sometimes die on the trails of Mount Rainier National Park when they are unprepared, and it's particularly easy to get disoriented or lose your step when the trail is hidden under snow.
In addition, crossing snowfields on steep hillsides can be slow going – especially if you don't have trekking poles. You might also find a need for gaiters to keep snow out of your boots.
You will not be able to cover as much ground early in the season as you will later. Consider this before getting reservations in June or July.
In mid to late September the conditions are most-likely to be at their very best. The insects are largely gone, the daytime temperatures are typically mild, and the trail will be groomed, bare, and dry. Just be sure to bring a warm down jacket and gloves for chilly mornings, and be prepared for a few days of rain.